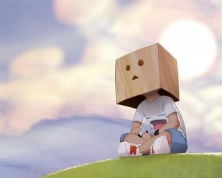 The Tribler client has been around for more nearly a decade already, and during that time it's developed into the only truly decentralized BitTorrent client out there.
Even if all torrent sites were shut down today, Tribler users would still be able to find and add new content.
But the researchers want more. One of the key problems with BitTorrent is the lack of anonymity. Without a VPN or proxy all downloads can easily be traced back to an individual internet connection.
The Tribler team hopes to fix this problem with a built-in Tor network, routing all data through a series of peers. In essence, Tribler users then become their own Tor network helping each other to hide their IP-addresses through encrypted proxies.
"The Tribler anonymity feature aims to make strong encryption and authentication the Internet default," Tribler leader Dr. Pouwelse tells TF.
For now the researchers have settled for three proxies between the senders of the data and the recipient. This minimizes the risk of being monitored by a rogue peer and significantly improves privacy.
"Adding three layers of proxies gives you more privacy. Three layers of protection make it difficult to trace you. Proxies no longer need to be fully trusted. A single bad proxy can not see exactly what is going on," the Tribler team explains.
"The first proxy layer encrypts the data for you and each next proxy adds another layer of encryption. You are the only one who can decrypt these three layers correctly. Tribler uses three proxy layers to make sure bad proxies that are spying on people can do little damage."
Tribler's encrypted Tor routing
Today Tribler opens up its technology to the public for the first time. The Tor network is fully functional but for now it is limited to a 50 MB test file. This will allow the developers to make some improvements before the final release goes out next month.
There has been an increased interest in encryption technologies lately. The Tribler team invites interested developers to help them improve their work, which is available on Github.
"We hope all developers will unite inside a single project to defeat the forces that have destroyed the Internet essence. We really don't need a hundred more single-person projects on 'secure' chat applications that still fully expose who you talk to," Pouwelse says.
For users the Tor like security means an increase in bandwidth usage. After all, they themselves also become proxies who have to pass on the transfers of other users. According to the researchers this shouldn't result in any slowdowns though, as long as people are willing to share.
"Tribler has always been for social and sharing people. Like private tracker communities with plenty of bandwidth to go around we think we can offer anonymity without slow downs, if we can incentivize people to leave their computers on overnight and donate," Pouwelse says.
"People who share will have superior anonymous speeds," he adds.
Those interested in testing Tribler's anonymity feature can download the latest version. Bandwidth statistics are also available. Please bear in mind that only the test file can be transferred securely at the moment.