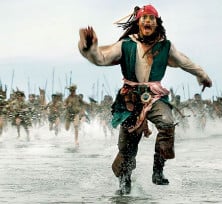 February last year, five U.S. Internet providers started sending copyright alerts to customers who allegedly pirate movies, TV-shows and music.
During the first year they sent out 1.3 million educational notices, warning account holders that their connection was used to share pirated content. However, its scope pales in comparison to what others are doing.
TorrentFreak spoke with anti-piracy outfit CEG TEK, who also send out warning letters on behalf of copyright holders. However, their version comes with a sting.
In addition to the traditional slap on the wrist their notices also include a settlement proposal, which can reach hundreds of dollars. These emails are sent as regular DMCA notices which the ISPs then forward to their customers.
Little has been revealed about the scope of this program, but CEG TEK's Kyle Reed now informs us that in 2013 they sent out 26 million notices to U.S. based Internet providers. The volume is expected to double this year as the company currently sends out 1.1 million notices per week.
It's an impressive number, but since not all ISPs are happy with the process only a small fraction of their customers receive the settlement offer to the respective account holder.
CEG TEK currently sends out requests to 3,493 Internet providers and 342 of these forward the settlement offer, which is roughly 10%. This includes many small ISPs as well as companies and universities.
Some providers forward the notice but without the request for a settlement. Comcast, for example, is known to do this. While CEG TEK prefers it if providers forward the entire notice, the stripped ones are also of value to their clients.
"There are various levels of cooperation. Success doesn't always mean getting a settlement from an account holder. Rightsholders are also happy when they can get their anti-piracy message out there," CEG TEK's Kyle Reed tells TorrentFreak.
Interestingly, there are also various ISPs who don't forward anything. According to their interpretation of the DMCA they are not obliged to send the notices to their customers.
"Several Internet providers don't comply at all. They simply ignore our notices," Reed says.
CEG TEK is not the only company to send these settlement requests as a DMCA takedown notice, Rightscorp does the same. Both companies have increased their output in recent years and major rightsholders such as Warner Bros. are in on the scheme.
It's an interesting trend, one that goes above and beyond the official Copyright Alert System. According to CEG TEK the approach is effective. The company has gathered data on how their notices influence piracy rates, which it plans to publish in the future.
Whether that will be enough to make a dent in piracy rates remains to be seen though.