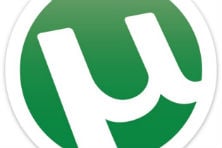 uTorrent was first released to the public on September 18, 2005 and the torrent client has come a long way since.
What began as a minimalist and no-nonsense client, targeted at an already BitTorrent-savvy crowd, is now an application that's become mainstream.
Over the years uTorrent's target audience has also changed. BitTorrent was still a geek thing ten years ago but today its audience includes soccer moms, grandparents and many others who are not generally classified as computer experts.
How it started
The groundwork for uTorrent, where the μ stands for micro, was laid out in 2004. At the time most BitTorrent clients were resource hogs or bloatware, while computer memory was relatively limited.
Swedish developer Ludvig Strigeus wanted to counter this trend. Inspired by a friend he took up the task of building a simple but powerful client with the main purpose of downloading torrents.
At the end of 2004 Strigeus started coding the application in his spare time, but after a month development stalled. He eventually picked up the project in September 2005 and three days later the first version was released to the public.
In a matter of days the news spread among Windows-bound BitTorrent users worldwide. For many people uTorrent was a breath of fresh air, due to its simplicity and the minimal use of computer resources.
Fast forward a few months and hundreds of thousands of people had switched to the newcomer.
Progress
Most progress in terms of features was made in the first year. Strigeus implemented several key changes which are a core part of the BitTorrent ecosystem today.
uTorrent.com October 2005
It was among the first clients to implement DHT support, for example, as well as BitTorrent encryption.
Ashwin Navin, who was the CEO of BitTorrent at the time, praised uTorrent for its innovations early 2006. Navin said that he and his colleagues were big fans of Strigeus' work which soon after introduced the next step in the software's history.
The Takeover
December 2006, little over a year after the first release, uTorrent was acquired by BitTorrent Inc. The San Francisco based company of BitTorrent inventor Bram Cohen had just secured millions in funding and with uTorrent it hoped to expand its userbase.
"Bringing together uTorrent's efficient implementation and compelling UI with BitTorrent's expertise in networking protocols will significantly benefit the community with what we envision will be the best BitTorrent client," the two companies announced.
uTorrent's founder, Ludvig Strigeus, cut his ties with the application soon after and went on to develop another piece of P2P-powered software, Spotify.
The takeover increased uTorrent's development capacity but not all users were happy. Some feared that the client would become bloatware and others were wary of BitTorrent's "deal" with the MPAA.
The vast majority of the people were satisfied though and the number of users grew exponentially.
In the years that followed uTorrent implemented several key improvements including the uTP protocol. In addition, the company also released long-awaited support for Mac and Linux operating systems.
By 2007 uTorrent had a larger userbase than any other BitTorrent client, and twice as many as the runner-up. And this trend continued. A year later uTorrent passed the milestone of 25 million active users and the year after more than half of all BitTorrent users had it marked as their favorite client.
Money…
Like all other commercial torrent clients uTorrent needed a business model. For many years the company has made the bulk of its revenue from bundled software such as toolbars. This software is presented as an option during the install process, which can be tricky to spot for some.
The "extra" software sometimes caused controversy. For example, earlier this year many users complained that uTorrent had silently installed a Bitcoin miner. Soon after the news broke, the company decided to no longer include this offer.
Another revenue stream comes from embedded advertisements. When these were first announced there was a lot of pushback from users, but these complaints slowly faded, in part because the advertisements became optional.
How much money the ads generate is unknown, but with billions of displays per year it must be a sizable amount.
uTorrent ads
Very tiny?
Those who compare uTorrent's appearance will see that the basic layout hasn't changed that much. However, in terms of functionality and features it's an entirely different beast.
The downside of these improvements is that the application is no longer as minimal as it used to be.
The installer has also grown in size quite a bit. While it's still advertised as a "(very) tiny" application the installer is now close to 2MB, instead of the 97kb it used to be back in 2005.
uTorrent version 1.1
Remarkably, however, the memory footprint is still very small. The first version of uTorrent consumed roughly 4MB memory, and today that's roughly 12MB depending on the setup, which is low compared to most alternatives.
Going forward
Regular visitors and beta testers of uTorrent have noticed that the application's development has stalled a bit, compared to the early years. However, new fixes and changes are still being released on a monthly basis.
One of the most prominent developments comes in the form of a new monetization strategy uTorrent will be testing during the months to come. Instead of bundled software uTorrent may switch to a new revenue model where it will ask users for money.
Looking back it's safe to conclude that uTorrent led the way in many aspects, and it's still a leader today. Alternative clients have a relatively small userbase compared to the client and despite a small group of vocal protesters who resist change, there are no signs of a mass exodus.
It's safe to say that ten years ago nobody could have predicted that uTorrent would be installed over a billion times, with roughly 150 million active users a month today. As such, congratulations is certainly in order.