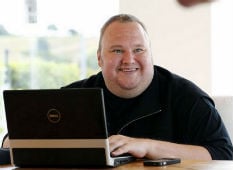 While there are plenty of people who would like to portray Kim Dotcom as the biggest copyright offender the world has ever seen, there are many who look beyond that towards his larger than life persona and playboy-style riches.
His lifestyle, one in which he inhabits a huge and luxurious mansion while traveling the country in helicopters, is made all the more interesting by the fact that authorities in the United States, New Zealand and Hong Kong attempted to seize all of Dotcom's assets back in 2012.
While they succeeded in locking up millions, it's evident that Dotcom has assets elsewhere and is currently disposing of them.
That's the argument being put forth by Dotcom foes 20th Century Fox, Disney, Paramount, Universal, Columbia Pictures and Warner Bros who have not only initiated legal action in the United States, but have also done so in New Zealand. They're keeping an eye on Dotcom's spending to ensure there's something left for them should they prevail in their legal action.
In a new judgment out today, Justice Patricia Courtney said there is indeed evidence to suggest that Dotcom had been giving "very substantial payments" to
his fledgling "Internet Party" political party. His offer to pay a $5m bounty to a whistle-blower was also noted.
As a result, Judge Courtney concluded that there is "a danger that any judgment obtained by the applicants will go unsatisfied, partly or wholly, as a result of Mr Dotcom disposing of assets."
In an effort to put the brakes on that possibility, the Judge gave Dotcom until August 20 to reveal all of his assets "wherever they are located" and to identify "the nature of his interest in them."
However, speaking with RadioNZ, Dotcom said any money he's spending now has been made since the mansion raids of 2012.
"The assets that they are talking about now are new assets that were created because of my entrepreneurial skill after the raid. So they're trying to attack assets that have nothing to do with MegaUpload or anything that I have run previously as business operations," Dotcom said.
However, the $11.8 million in assets already subjected to a criminal restraining order following the raid in New Zealand are also under attack. In April the High Court said Dotcom could have his assets returned. That decision was quickly appealed by the Crown and the case was heard at the Court of Appeal today.
A lawyer for the police told the Court that although the assets are being held under a criminal restraining order in New Zealand, the Court did not need to take into account whether the cases being pursued in the United States against Dotcom were criminal or civil in nature.
The judges reserved their decision on whether the freeze on Dotcom's assets should continue for another year in addition to the two years plus that have already passed.
Meanwhile, over in the United States, Dotcom lawyer Ira Rothken announced that the US Federal Court had granted a motion to stay all civil copyright litigation against his client until April 1, 2015.