Ten years ago the High Court in London ordered all major ISPs in the country to block The Pirate Bay. The injunction couldn't stop the site from operating but indirectly left its mark in more insidious ways.
To demonstrate the futility of blocking, hundreds of Pirate Bay-themed proxy and mirror sites swarmed online, ready to stick to the man. Most looked and functioned like The Pirate Bay itself and by undermining the injunction, quickly became go-to platforms in the UK. Within the file-sharing community it was seen as a glorious yet functional display of the 'hydra effect'. But more was to come.
Chopping All Heads Off At Once
Over the next decade more than 20,000 sites and 75,000 domains would find themselves blocked in 39 countries, a total that now includes mirrors and proxies that facilitate access to previously blocked sites. Thousands are covered by dynamic injunctions, meaning that if previously banned sites use new domains to circumvent blocking, those will be blocked more quickly than the originals, no court process needed.
Meanwhile, however, another type of irritant has been gaining ground.
Rise of The Big Fat Phony
In a mainstream piracy scene where blocking has normalized the use of sites that simply resemble the original, imposter sites with big-name branding easily gain traction. Since the sites they impersonate are blocked by ISPs and delisted from Google, pirate site forgeries (not to mention malware sites) often dominate the top results.
The case of long-dead streaming site 123movies provides a good example. The MPA obtained an injunction to block the site in October 2016 after 123movies.to became the most-used pirate site in the UK. A month later it was confirmed that half a dozen additional 123movies domains had also been blocked.
In March 2018, the MPA described 123movies as the world's most popular pirate site. Two days later, 123movies.to shut itself down following a criminal investigation.
123movies shutdown notice
After pulling in tens of millions of visitors each month thanks to competing domains being shut down, in May 2021 the operator of yet another 123movies site, operating from 123movies.la, was identified by Hollywood and also forced to shut down.
As a result, many other unaffected 123movie-branded sites stepped in to reap the benefits.
And There's More
Continuing the fight that never ends, over the next few months MPA injunctions hit more and more pirate sites featuring 123movies branding, such as 123movies-one.com, 123moviess.online, 123movies-one.com, 123-movies.gy, 123-movies.as, 123-movies.gs, 123movies.ms, 123-movies.sx, 0123movies.cam, and 123moviesready.org.
At this point it's not difficult to imagine frustration setting in at the MPA. While domains are sometimes covered by existing injunctions, others demand more work and more court appearances. Although it wasn't apparent back then, blocking orders obtained late last year marked a significant turning point in the war against these imposter sites.
More Blocking Injunctions Turn The Tide
Orders obtained by the MPA last October and December targeted domains including 123movies.online, 123moviesfun.ch, and 0123movies.net, 1-2-3movies.com, 123movies.vu, and watch123movies.ch.
But, of course, this wouldn't solve the problem either. At least not immediately.
The application hasn't been made public but the MPA returned to the High Court this summer with two sets of new domains and requested blocking in connection with an earlier order. As far as we can establish they included 123chill to, 123series.ru, d123movies.to and w-123movies.com.
The first set was handled without a hearing but the second set was described by the High Court as "something of an extension of the relief" that had been granted earlier.
A hearing took place and here's what happened.
Clone and Imposter Sites Neutralized Injunctions
Referencing two injunctions targeting 123movies domains and handed down by Justice Falk and Justice Johnson late last year, Justice Meade stated the following:
"The problem is that when an order in the form granted by Falk J or indeed by Adam Johnson J (as he did in December 2021 and which I will touch on again shortly), the reaction of people willing to infringe this kind of copyright is to start up a website with a different but very similar domain name," the Judge wrote.
According to a confidential witness statement provided by an MPA lawyer, when 123movie domains were blocked following the December order, "traffic diminished, as one would expect." But then a new problem emerged.
"[O]ther websites with very similar names picked up the slack and either increased the previous traffic or started from zero and moved to significant traffic, with the effect that although the specifically-targeted websites were throttled back to a significant degree, overall traffic through websites with 123 Movies in their name was not restricted very much if at all," the Judge added.
Highlighting the difficulties in identifying the operators of imposter sites and establishing direct connections to sites already blocked by injunctions, the Judge found that the issue of ownership was irrelevant.
"It does not really matter: the problem clearly exists and is of real impact. To my mind this illustrates not only that the commercial problem facing the applicants is not addressed, but that the court's order, while effective, is much less effective than it might otherwise be."
Clone and Imposter Sites Punished For Copying
The MPA proposed a very simple solution. If new domains appear with similar 123movies branding and exist to infringe its members' rights in the same manner as those already blocked, they should be blocked in the same manner, regardless of ownership or connections to the previous targets.
After consideration, Judge Meade found the proposal "necessary, effective, dissuasive" and not unduly costly or complicated. Websites carrying out "infringing activities overwhelmingly" using a "colorably similar name" to an existing blocked website, will also be blocked by all major ISPs in the UK.
After the order has handed down, the MPA blocked additional 123-branded domains including 123movieshub.cfd, 123movieshd.icu, 123movies2022.org, 123moviesprime.com, 123movies.tools, 123moviesfree.quest, 123moviesfree.rest and 123moviesfree.mom.
Then in a single wave implemented yesterday, the implications of the MPA's new powers really hit home. More than one hundred 123-branded domains were blocked by UK internet service providers.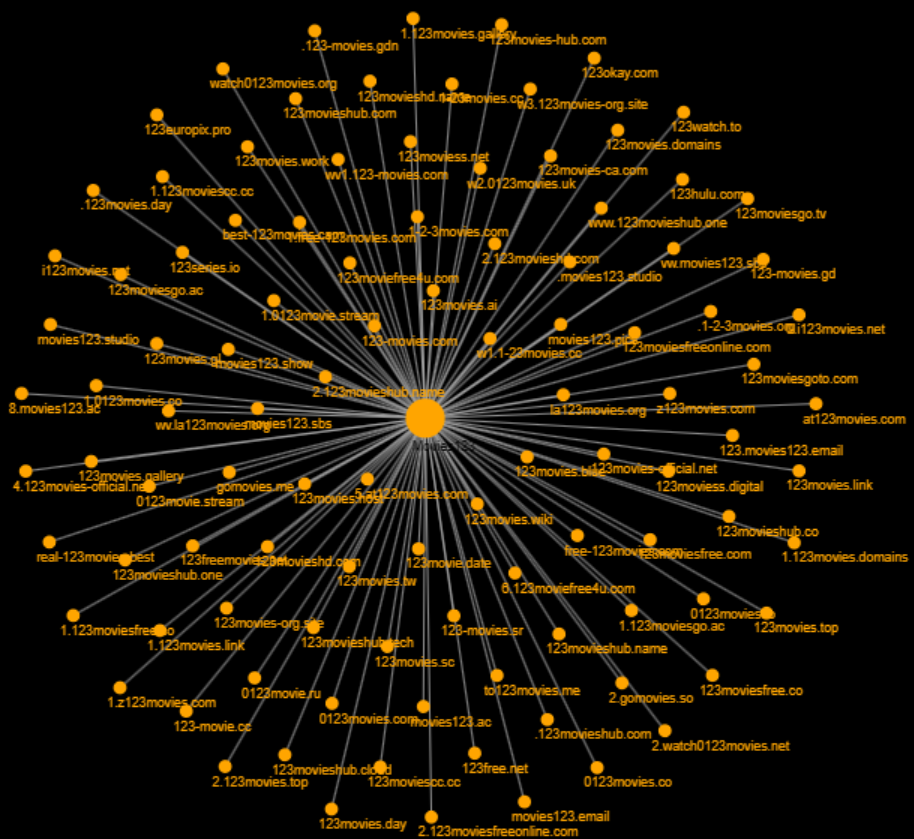 Of course, this standard will almost certainly be applied to other 'pirate brands' at some point and as far as we can see, GoMovies domains may already be in the mix.
Finally, it's worth pointing out that Australia is also testing a similar format, but it's unlikely to stop there and will probably spread pretty quickly.
Whether this new blocking freedom will end the flood of generic streaming platforms remains to be seen but, if nothing else, copying other sites' names to get search engine clicks may soon be a thing of the past.