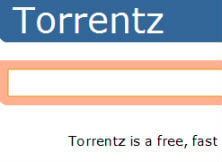 The fallout from last month's domain name seizures carried out by US authorities continues to spread in the file-sharing community.
Torrent-Finder, which shifted to a .INFO domain to continue its operations, is fighting back with legal representation. Others, unsettled by the developing atmosphere of uncertainty, are taking steps to mitigate any potential future action against their sites.
Already several private trackers have invested in alternative domain names which are at least currently believed to be outside US control or influence. Early December the popular Demonoid tracker showed its hand with a shift from a .COM to a .ME domain.
While seizing the domain names of a fully fledged torrent site with index, categorization, heavy moderation, tracker and seedboxes might not be a huge surprise in the current climate, the targeting of the Torrent-Finder meta-search engine came as a real shock to the file-sharing community.
So there can be little doubt that Torrentz, the Internet's second biggest torrent site, eyed the recent developments with an element of disbelief. As a meta-search engine it should be absolutely fine but the unofficially established rules of the game appear to have changed, despite being based on a case filled with serious mistakes.
To that end, today we can confirm that Torrentz has officially dumped its .COM domain in favor of Torrentz.eu. There's no official announcement from the site but anyone visiting the old URL is immediately redirected. This change is a permanent one, we have learned.
Two years ago Torrentz already faced a hostile domain takeover from a hacker, but this issue was resolved quickly and without any serious consequences. We assume that moving away from the .COM domain is deemed to be the path of least resistance by the Torrentz.eu team.
But its not just BitTorrent sites that are affected by this environment of uncertainty. With the seizing of the domains of several hip-hop sites – RapGodFathers.com, RMX4U.com, Dajaz1.com, and OnSmash.com – that community is also worried for its future.
A handful of bewildered site owners have contacted TorrentFreak during the last month with questions ranging from "Why were these sites taken down?" through to "What can we do to avoid the same fate?" Our answer to these sites has been consistent – they have been targeted for being involved in RIAA-label music.
For those in hip-hop, the chance to really take their music back to the streets should be a breath of fresh air and a poke in the eye for the corporates who have tried, once they realized it was a money spinner, to absorb their scene during the last 20 years.
For everyone else, other tactics will have to be employed. The technology war to stay online – and findable with a search engine – has only just begun.